Golden times for DIY enthusiasts – individual stencil design
Hello dear stencil friends,
An individual stencil design can simply spruce up your chair, which may have been pushed to one side or doesn't get noticed. With our stencils, we restore it back to life, turning it into an eye-catcher.  I'll show you how you can decorate your chair and how you can achieve a clean result. Chair designs made easy. For your individual furniture design.
All you need is:
Stencils from the Schablono shop, sponge roller, paint tray, acrylic paint, Acrylic chocolate brown, gold leaf/sheet metal, one piece of cardboard,  masking tape, a bucket of warm water.
The 1st step: test phase
I recommend that you take a test before you start.
First, familiarize yourself with the surface of your wood; the chair should be untreated beforehand – free of grease and clean. If necessary, sand down or remove old layers of paint. This will make it easier for you to apply paint. I decided on an aryl-based colour. It is thicker than a wood glaze, does not penetrate the wood immediately, and is easier to dab. Another advantage is that Arcy paint dries very quickly and tools such as brushes can be cleaned with water. It can be found in every well-stocked hardware store. If you are still unsure, get advice from a hardware store or paint specialist.
It is best to practice on a piece of cardboard or a piece of unglazed wood – then you get a feel for the amount of paint on the brush and see how the paint behaves on the unglazed wood. There are extra stencilling and stippling brushes in the stencil shop with which the paint can be applied wonderfully. Thicker, undiluted paint is ideal for the stencil technique.
The 2nd step: fixing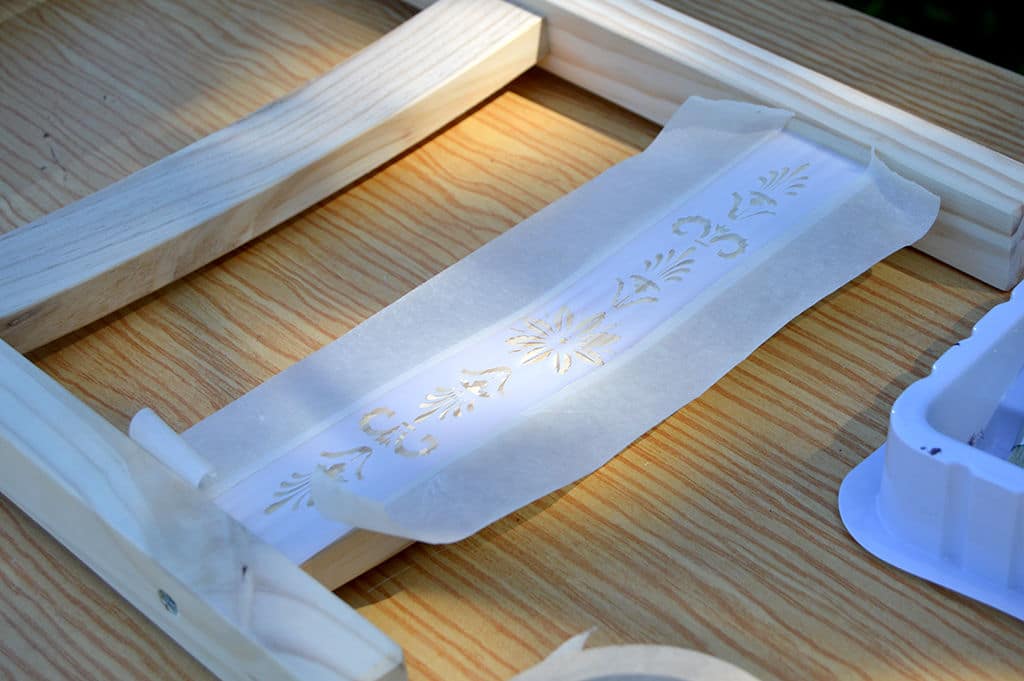 Now you should fix the stencil to the chair with some painter's tape or a detachable spray adhesive so that it does not slip while you work and you get a perfect and sharp result at the end. I would recommend using painters tape to prevent overpainting. If you make a mistake despite the use of painter's tape, you can correct it afterwards with some sandpaper.
The 3rd step: stencil your individual stencil design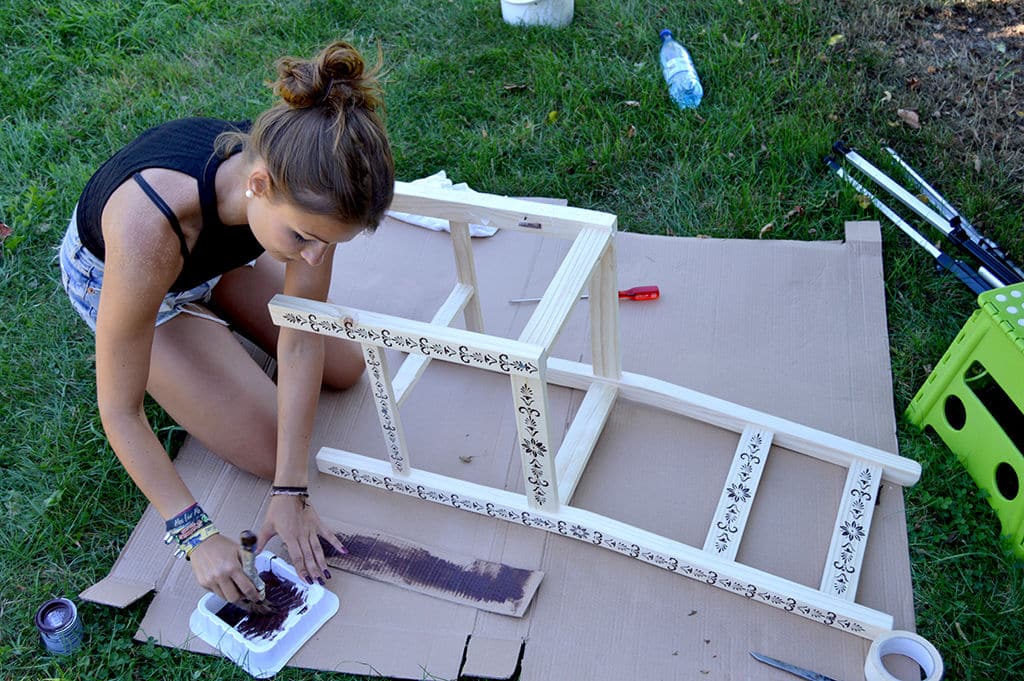 The brush is now dabbed onto the stencil. Depending on how much colour there is on the brush and how hard the brush is pressed onto the stencil, this determines the application of colour. Use as little colour as possible. When dabbing, it is advisable to hold the brush straight and not at an angle, otherwise there is a risk of the paint running under the stencil.
With the large stencil brush, you can fill larger areas with colour faster. A stencil brush is very suitable for small and very fine work. The differences are largely reflected in the working speed.
In our shop, you will find stencil brushes in 3 different sizes.
The stencils are washable and reusable, so I advise you to wash the stencil immediately if you want to reuse it, otherwise, the aryl paint dries very quickly and your stencil will otherwise get thicker and thicker and the printed image will get worse and smeared when you reuse it. To clean the stencil, fill a small tub with water and briefly place the stencil in it. The paint residue can then be easily washed off using your hand or a soft brush.
The 4th step: peeling off
Before removing the template, you should carefully remove the masking tape. Then carefully peel off the template.
The 5th step: decorate
After a short drying time, place the stencil exactly over your seat again and coat the elements that are to become gold with aryl varnish. Then you put a sheet of metal leaf or real gold leaf on the still damp surface and lightly dab it with a brush. Then let it dry for a few minutes before you remove the stencil again. By completing this process, you will be left with a neat and beautiful effect. Let it dry briefly and then coat the entire chair with clear acrylic varnish. The best way to do this is with a foam roller. This will give you a smooth application of paint.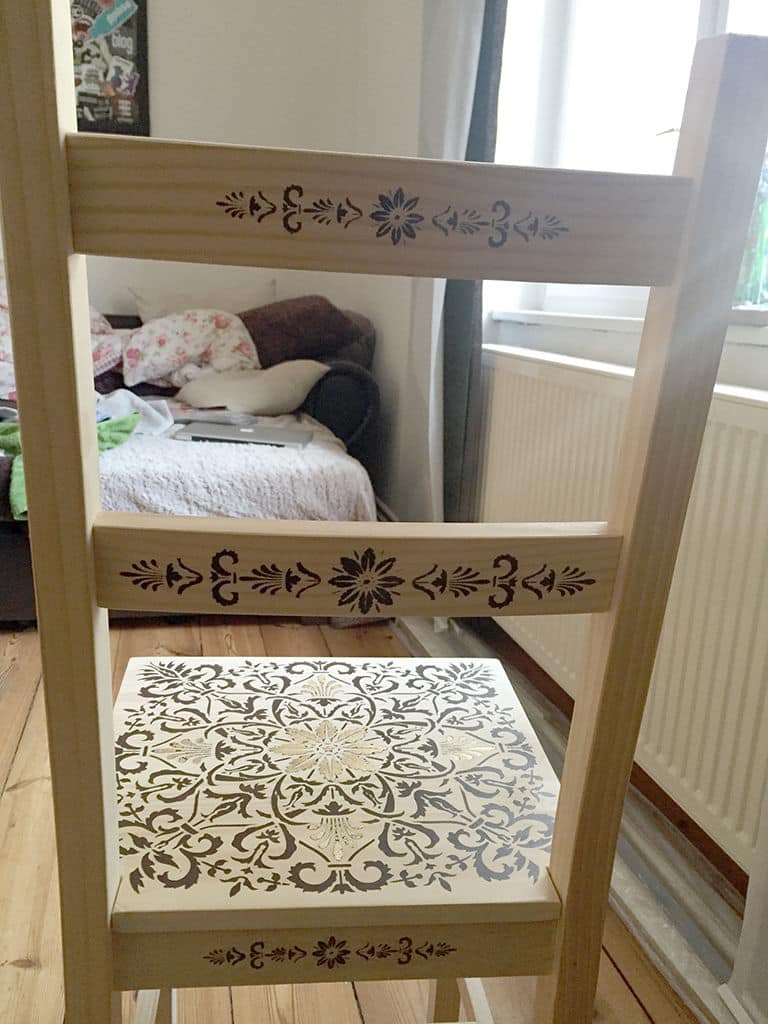 There are no limits to design ideas with stencils. Schablono also offers you the opportunity to have individual motifs made. This allows you to create very personal ideas that you can use for your walls, furniture or for designing textiles. Just have a look at www.schablono.de. There you will find over 1,000 motifs to choose from. 
Or let yourself be inspired for your own creative projects. You can get the right stencils and tools such as paints and brushes in our shop. We look forward to your order.